The basic philosophy at DBLS is to create a landscape that highlights the best features of a property and maximizes the available space. Through the use of elegant lines and the best quality materials for each project, DBLS is committed to enhancing and revealing a site's potential.
Structural or hard landscaping services include: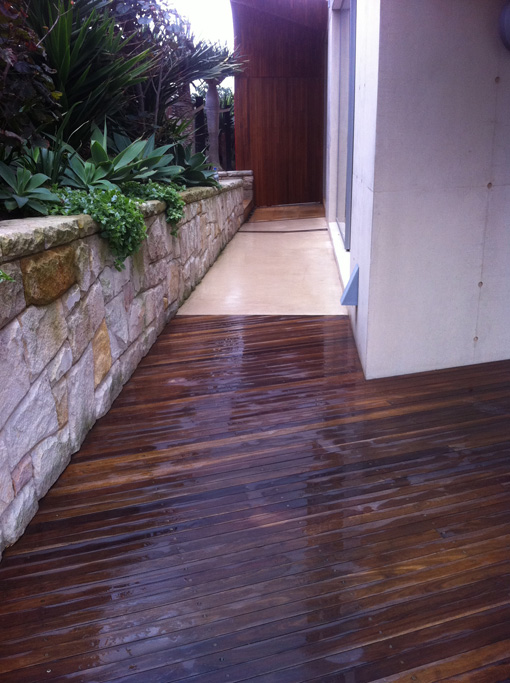 Brick Works and Concreting: DBLS can construct double and single brick and block walls, both retaining and freestanding. IN addition DBLS can lay brick edges, separating for example decomposed granite and pebble paths from garden bed and turf areas. DBLS can construct concrete footings for all sandstone works with ties steel reinforcements when necessary, blind concrete slabs for the sub-grade of paving driveways and sandstone flooring. Alternative and cost-efficient cladding using sandstone with mechanical fixings and glue, is a popular treatment for retaining walls and houses and DBLS is an expert in this field of construction.
Paving: DBLS understands the type of paving that best suits particular sites. Paving is one of the most effective means of upgrading a property, both to freshen and open up a space. DBLS uses a variety of pavers for optimal paving effects such as Haddonstone, new and recycled bricks, and sandstone flagging in a wide range of patterns.
Sleeper Retaining Walls: On several landscaping projects DBLS has constructed wooden retaining walls made from recycled railway or treated pine sleepers, anchored by posts set in concrete. Such retaining walls are a cost-effective solution for steeper sites.
Pool Copings and Surrounds: DBLS can create pool copings in different materials such as bull-nose sandstone, tiles and or pavers. Decking in Merbau and or other hardwoods have been used on projects to great effect.
Gardens, green walls and mass plantings: Depending on the scope of works, DBLS has the ability to install mature trees or young plants as required. In addition we offer a maintenance program for newly installed gardens to ensure the plants establish correctly. Several of our clients retain us for ongoing bespoke garden maintenance.
Drip irrigation installation: DBLS can build irrigation systems that are water efficient and which lessen the time spent watering especially on larger properties.
Soft landscaping services include:
GARDENS & MAINTENANCE
The following garden services are provided by DBLS:
Mowing
Hard pressure cleaning of paths & terraces
Mould removal from sandstone and paved surfaces
Clearing of overgrown sections of a garden
Clearing of weeds, pests and plant diseases
Pruning, trimming of plants
Fertilisation
Watering
Garden top-ups where needed (soil, mulch etc)
Plant replacement
Tree removal advice and supervision
Vegetation removal
DBLS can design a maintenance program as a once-off makeover or as a regular ongoing arrangement. Please contact us for our competitive hourly rates for a quote for your garden or property cleanup.